writer

Graduated in 1999 in theatre direction from Janáček Academy of Performing Arts in Brno, in Alojs Hajda's studio. While still a student, he worked for the Marta Studio where he showed his talent as the director of outstanding productions, such as Baal; The Marriage of Figaro; Frankie is OK, Peggy is Fine and the House Is Cool; or Agent Sonia. During his studies, he participated in the Erasmus exchange programme in the United Kingdom where he directed Jean Genet's The Maids, August Strindberg's Miss Julie at Dartington College of Arts, and later his own play Frankie is OK, Peggy is Fine and the House Is Cool at the Grace Theatre in London. When he completed his studies, he started his intense and systematic cooperation with a number of Slovak and Czech theatres (National Theatre Brno, Polárka Theatre in Brno, Drama Club in Prague, Drama Department of the Slovak National Theatre, Aréna Theatre). He also collaborated with a few stages in England and Slovenia. Productions directed by Čičvák regularly appear at Slovak and international festivals. He is the laureate of several important awards given out by renowned Slovak, Czech and European critics (Dosky Award, Alfréd Radok Prize, Critic's Choice of the Time out magazine, among others). In addition to directing drama, he also directs for the opera (J. K. Tyl Theatre in Pilsen) and works as a translator. He is the author of numerous dramatic texts and adaptations for theatre. Čičvák celebrated success with his book Kukura (His Life As Lived by Čičvák) a monograph about Juraj Kukura, the Slovak actor and current director of the Aréna Theatre.

Martin Čičvák is a member of the middle generation of contemporary Slovak directors and authors. Even though he completed his art studies in the Czech Republic, he established himself quickly and strongly also in his home country. Contemporary theatre criticism perceives him as a distinct, specifically pronounced artist who likes to use postmodernist theatre elements in his directorial work.

Original imagination, resourcefulness, self-standing theatrical feel, impressive visuals in stage and costume design – these are the fundamental attributes of Čičvák's art, elements he can use to work in the modest conditions of small-space theatres or studios, but also on big stages. In his line of productions, he does not systematically follow any particular playwright, genre or country, but is a director with a very broad range of interest. Martin Čičvák's list of directed productions includes world classics by Shakespeare, Brecht and Chekhov, absurd drama (Beckett), Feydeau's comedies, adaptations of world classical novels (Remarque, Dostoyevsky), as well as opera titles by European composers (Bellini, Mozart). The only exception seem to be classical Slovak and Czech playwrights who have not caught Čičvák's eye as yet. But Čičvák does not avoid classical drama – when producing classical plays he always tries to find parallels with the present times accentuating protuberant domestic and international political issues and seeks solutions for important social and personal issues. Director Martin Čičvák expresses his art in elaborate acting detail and well-constructed actors' thinking.

Martin Čičvák is a flexible director who is used to working in two countries at once. In the course of his relatively short professional theatre career he has created over eighty remarkable productions and written several interesting dramatizations, adaptations and theatre plays. He is the author of numerous excellent and provocative interpretations of classical dramatic texts whose message he communicates clearly and in the spirit of the original text, nonetheless with the added value of presenting a current topic. His most successful play Frankie is OK, Peggy is Fine and the House Is Cool was staged in theatres in Slovakia, the Czech Republic, Hungary, Poland, Serbia, Latvia, the Netherlands and the United Kingdom.

His recent play Urn on an Empty Stage was staged both in Czech and Slovak Republics, and had staged reading in New York.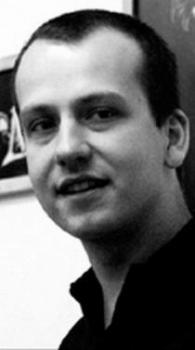 Photo: Ctibor Bachratý
theatre plays
DOM, KDE SA TO ROBÍ DOBRE
(Frankie is OK, Peggy is Fine and the House is Cool)

1995, published in Divadlo v medzičase 1/1997 magazine and in the anthology Slovenská dráma 1996, TÁLIA-press, Bratislava, 1997; translated into French; English translation published in Contemporary Slovak Drama 1 by the Theatre Institute, Bratislava, 1999; staged at various theatres: the Marta Studio, JAMU, Brno, 1995; State Theatre, Košice, 1997; Grace Theatre, London, 1997; Újvidéki Magyar Szinház , Novi Sad, 1999

AGENTKA SONIA (Agent Sonia)

1995, finalist of the Alfréd Radok Prize competition, 1995; translated into French, published in the anthology Hrdlili hrdly na plotně, DIFA JAMU, Brno, 1996; staged in the Marta Studio, JAMU, Brno, 1997

KUKURA
(Doktorandská práca o stave kultúry)

Kukura (a doctoral thesis on the state of affairs in culture)) (2011, staged in the Aréna Theatre, 2011 and in the Drama Club Prague, Czech Republic, 2011