writer

Having graduated from the Department of Theatre Directing and Dramaturgy at the Academy of Performing Arts in Bratislava, Mr Procházka studied under the tutelage of Ľubomír Vajdička and Ján Štrbák. It was already during his studies that he defined himself as an author with a sense of powerful interpretation, specific artistic aesthetics and physical theatre. This was fully embedded in him during his Erasmus + stay at the prestigious Rose Bruford College, where he studied European Theatre Arts under Alexia Kokkali, Thomas Wilson and Matthieu Bellon. Mr Procházka regularly collaborates with the finest Slovak choreographers and performers (Peter Šavel, Marta Poláková, Yuri Korec, Soňa Ferienčíková). In December 2015 he premièred, to high acclaim, his own performance KAFKA.DREAMING (nominated for the DOSKY 2016 award in the Discovery of the Season category), which he made in collaboration with Peter Tilajčík. His debut in Bratislava was his adaptation of the Ingmar Bergman Persona at the Aréna Theatre.
His key recent works include the work-in-progress on dramaturgical trilogy The Lost Generation [Stratená generácia]. The first part is a site-specific happening based on Anton Chekhov's The Seagull called entitled PEOPLE.LIONS.PARTRIGES [ĽUDIA.LEVY.ORLY.JARABICE]. The second part, OEDIPUS REX (Mommie Dearest) is his adaptation of the Oedipus myth. In the 2017/2018 season, Mr Procházka debuted at the Slovak National Theatre with his own performance based on Antonin Artaud's ARTAUDIA.AUTOPSY, where he again collaborated with Peter Tilajčík. He co-founded the Prague-based queer ensemble House of Garbáge. He regularly performs with the compony under the alias La Cuntessa. In Prague, he also forged close creative friendship with Martin Talaga, with whom he regularly collaborates. The topics he addresses, as well as the method of their interpretation and location earned Mr Procházka the nickname "enfant terrible of Slovak theatre".
He lives where he creates and wherever he is welcome.
Foto © Tomáš Procházka Half-life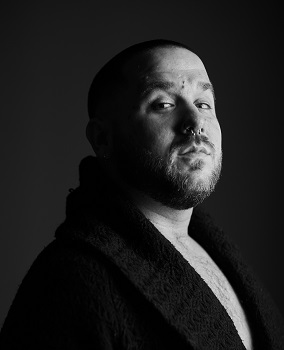 © Dorota Holubová, 2020/archív autora
theatre play
The Last One or I want you to panic